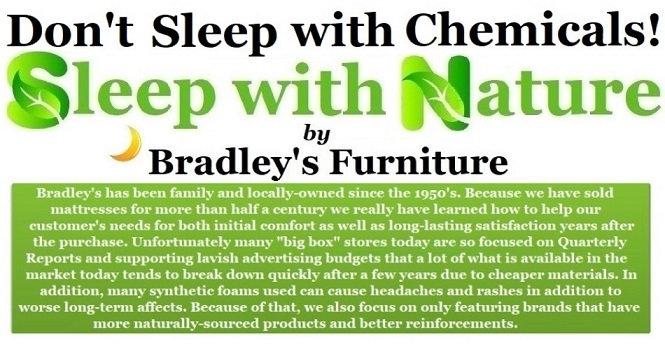 We are open for business during the Covid-19 outbreak with additional precautions and safety measures but
have modified hours (

Now Mon-Tue 10AM - 6PM, Wed-Sat
10AM -
5PM
- Closed Sunday
). We offer sanitized pillow cases for safety, wear masks and ask customers to do the same as required by the county, and maintain social distancing throughout the shopping experience. Thank you for continuing to support a family-owned local business!
More and more we learn of corners and shortcuts taken by mattress manufacturers to keep costs down and profits up; shortcuts that increase heat, off-gasing, toxins, and chemicals in the single most intimate product of all... our mattresses. Luckily there is an alternative to Memory Foams, Innersprings, Dunlop Latex, and Gel-Cell Mattresses that provides a luxurious comfort, breath-ability, and most important; a natural product that will help your body to rest deeply and healthily. We always recommend Talalay Latex as the best option for all types of sleepers but especially back and/or side-sleepers to sleep cool and comfortably for up to 20 years.
We display the most Latex and Organic mattresses on display in all of Utah in addition to

a Serta gallery showcasing beds in the Perfect Sleeper, Sunset, and even their locally produced Hotel Lineup featuring

double-sided mattresses that are free of memory foams and work wonderfully with a raw Latex Toppers

from three different companies if you want the benefits of sleeping with nature without the higher costs

! We even have a few different natural bed-in-a-box collections that you can load in your car and take home today. Several independent studies that we have seen show that
Talalay Latex mattresses are one of the best products at achieving
breath-ability, pressure relief, support, and longevity for all types and sizes of sleepers

yet sadly most mattress stores don't even offer them products on the floor because they are not as profitable for their bottom lines. Rather than even display a natural mattress many stores have made up your mind that you would be better off not looking at a natural and organic alternatives to their chemically-laced creations... but not us!
We look at the components of every mattress line we sell to ensure each of our products have natural ingredients designed to keep you and your family healthy and sleeping well for years to come. In our experience,
Talalay Latex

holds up better than any other product and lasts almost twice as long when properly rotated. Because of that and several other reasons we feature seven different brands at every pricepoint and dozens of mattresses built with natural products including Savvy Rest, the only company in the world to make a Talalay Latex mattress that is completely GOTS and GOLS Certified

with no chemical additives, flame retardants, stabilizers, or foamers whatsoever. Ever other "organic" mattress company we are familiar with uses either Dunlop latex which is processed with a chemical foamer or blended Talalay or synthetic latex processes.
Click Here to view all of our lineup on display including mattresses with organic foam starting at $599 for a Qn.

and make sure to head over to
this page for Mattress Coupons up to $300 Off!
No appointment is needed Monday through Friday 10-7 and Saturday 10-6. We offer

30 day sleep exchange
to make sure you chose the right mattress and can even send a free sample box of latex with information if you are unable to come in to our Salt Lake location. We are also happy to offer a huge selection of Adjustable Bed Bases from three of the top companies in America (Serta, Reverie, Leggett and Platt) that will work with every latex mattress on our site. Last but not least, a large part of what we do at Bradley's is work with small and independent local furniture builders that make rustic natural bedroom, living room, and dining table collections at great price points and available in custom designs, sizes, and colors for those wanting something different from the cookie-cutter furniture available on the market today. Visit our other website at www.UtahRusticFurniture.com for more information. We ship nationwide!
Visit our 10,000 square foot showroom featuring almost all of the models shown on this site:


2255 So. 300 W. Salt Lake City, Ut 84115 - Call us at (

801) 484-1007 with questions.
Click one of the pictures below to view a category or specific brand of mattress that we carry. Also, don't forget to check out our Rustic Furniture Website at
www.UtahRusticFurniture.com
for bed frames.
Interested in something Natural and Breathable - We recommend Talalay Latex for back and side sleeping adults more than any other product!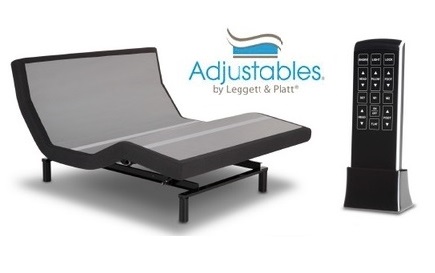 Click Here to link over our our Adjustable Bed Frames Website -

We feature some of the best prices around the country on top of the line Leggett and Platt, Reverie, and Serta iComfort Adjustable Beds. Check out our showroom to try out eight of the nation's top models!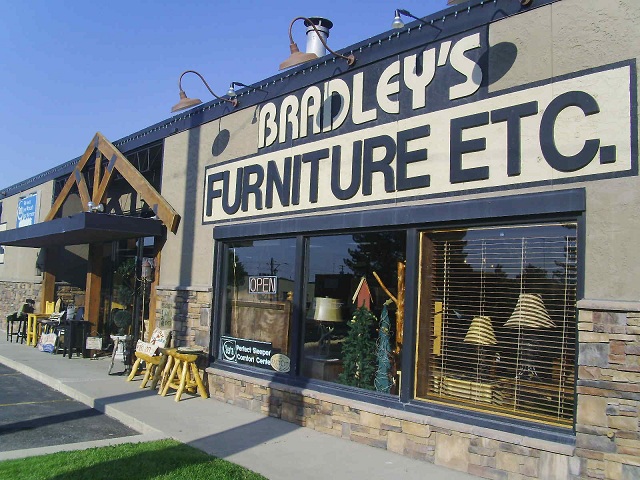 We have a 10,000 Square Foot Showroom so that you can try out almost every mattress set shown on this website and to view bedroom and living room collections from USA and Utah Craftsmen ranging from Top Grain Leather Sofas to Custom Hand-Made Natural Wood Bedroom Furniture and Bunk Beds. Visit our Furniture Website at
www.UtahRusticFurniture.com
Bradley's Sleep and Furniture Etc.
2255 S 300 W Salt Lake City, Utah
801-484-1007
Orders@SaltLakeMattress.com