Serta Pure Response Energizing Mattress with 5 1/2" of Talalay and Cool Nature Latex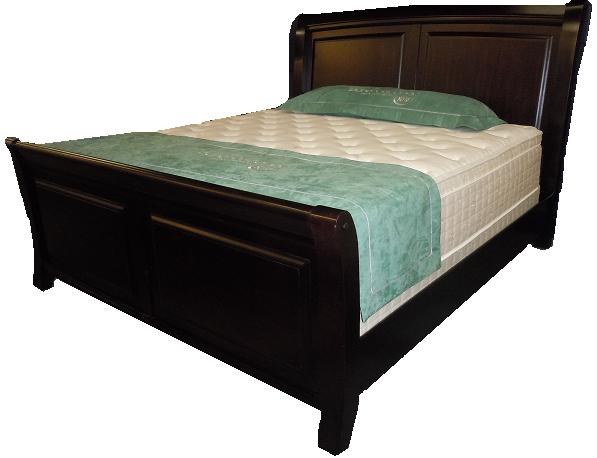 The Serta Pure Response Energizing Latex Set offers 100% conformity comfort and the nation's longest warranty - 30 Years! The Energizing Mattress Collection offers a medium-plush comfort system which increases support in the back and neck area, providing better spinal-alignment than traditional systems. In addition, natural Talalay Latex is the most breathable foam on the market. With 5 1/2" of Talalay Latex and a soy-based motion-reducing support bottom layer, this bed is composed of nearly 100% organic materials.
Serta has also infused "Cool-Nature" liquid into the top 1/2" of Latex which is desinged to keep your body cooler during warmer summer nights and stay closer to natural body temperature during the colder months for maximum luxurious comfort. This incredible technology is onl
y available in the Serta Pure Response Collection! This is one of Bradley's Staff's recommended mattresses for a master suite bedroom set. Click here for more info on the Talalay Latex Process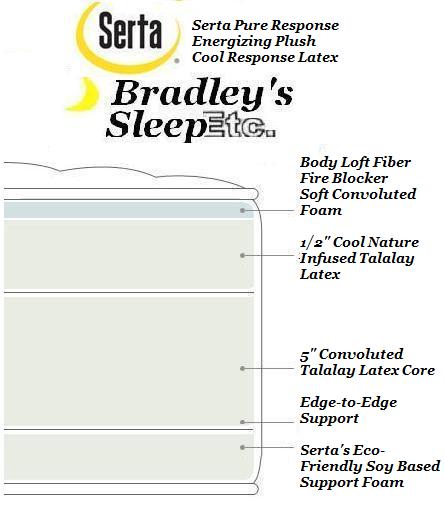 Mattress and Box
Mattress Only
Twin

Sold Out

Sold Out

Full

Sold Out

Sold Out


Queen

Sold Out

Sold Out

King/Cal King

Floor Model $1999


Only $1429

w/Coupon and Promo Floor Model Box


Floor Model $1799

Only $1299 w/Coupon
Features:
Pure Response Collection
Serta quality
Spring-Free Talalay Latex System
5 1/2" of 100% Talalay Latex
Edge-to-Edge Support
StabL-Base Dual Beam Frame
Fire Blocker System
Comfort foam
Convoluted Talalay Latex Foam
Advanced Comfort Quilt
Euro top
Cool-Nature Infused Talalay Latex for Heat Regulation
30 Year Serta Mattress Warranty
Dimensions
:
Twin: W39 x L75"
Twin Extra Long: W39" x L80"
Full: W54" x L75"
Queen: W60" x L80"
King: W76" x L80"
California King: W72" x L84"

Mattress Height: 14"
(Mattress only)