Why are Latex mattresses the most organic and healthy mattress to sleep on?

Latex Mattresses have become the standard in healthy luxury sleeping due to its unique qualities that provide a breathable, supportive sleep. In addition, Latex resists dust mites and other allergens because of its organic composition. However, those sensitized to latex (less than 1% of the American Population according to the American Allergy Latex Asssociation or AALA) may wonder how they would ever be able to sleep on one of these products before looking into current studies throughout the industry.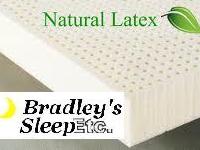 Research (see NCBI and AALA links below) has shown that it is mostly the proteins in latex products that cause allergic reactions. Across all latex products approximately 2% of the weight of a Natural Rubber Latex product is from these proteins known to result in mediated allergic reactions, but most of these allergic reactions are reported to occur from products such as rubber gloves and balloons because they are made with a dipping process which results in a thin stretch latex often coated with cornstarch powder. The latex protein particles tend to stick to the cornstarch and fly into the air when the gloves are taken off which is why many have respiratory and touch allergic reactions in places where latex gloves are being put on and removed frequently.
The Latex foam in our products, however, is not made of this same thin stretchy latex. Rather, our latex mattresses, toppers, and pillows are manufactured by super-heating a large mold which should prevent the majority of sleepers from having an air-borne allergic reaction to our mattresses. This high heat causes the latex to vulcanize, and destroys a majority of the potential airborne latex proteins that cause allergic respiratory reactions. Also, the majority of those with sensitivities from coming into physical contact with latex (touch allergies) should not have issues with allergic reactions to our latex mattresses due to the fabric placed between the latex and the sleeper's body (those sensitive to touch or respiratory allergies purchasing a Savvy Rest customizable mattress should have our delivery team or someone who is not sensitive to latex install the raw layers. Once installed the mattress should not cause touch sensitivities to anyone).

All of the versions of Latex manufactured by Talalay Global (Okeo Test 100 Certified -Serta, Diamond, and Pure Talalay Bliss uses this foam on the latex mattresses shown on our site), Talalay and Dunlop by Radium and CocoLatex (Okeo Test 100 Certified produced by Savvy Rest), and Continual Pour processes used in our Therapedic and Restonic Everton Mattresses (Oeko-PEX® and TFI-Germany Certified- Produced by Mountain Top Foam) are tested for harmful substances and deemed safe by reputable third party organizations. The chemicals that Oeko-Tex tests for are available on their site.
Complaints for allergic reactions to natural latex are monitored by the FDA (for latex used in medical devices and for children) and Consumer Product Safety Commision and to our knowledge there have been no reports or articles posted by the FDA or CPSC that list latex mattresses as a concern for people with latex sensitivities. Recently in 2004 the CPSC denied a petition for natural latex rubber to be labeled as a "strong sensitizer" because the frequency (less than 1%) and severity of reported latex allergies to all Natural Latex Rubber among 40,000 products on the market were too minor to require any mandate in labeling or warning to consumers. Also, their research found that the methods used to produce the natural latex rubber (and especially those used in the vulcanization process for mattresses - upon reading through the petitions complaints we could not find any directly linked to a Latex Mattress) are becoming so efficient at reducing the proteins that can cause sensitivities that current levels are less than 1 part per million.

For all of our hundreds of latex mattresses we have sold or were provided feedback from those sleeping on latex in our more than 28 years in the mattress industry we have very rarely had any concerns in regards to latex allergies brought to our attention. It also appears that we are not alone: several of the top mattress review sites that don't sell mattresses and are unaffiliated with any retail company along with several other stores like us that sell all types of beds seem to have the same experience (www.mattressunderground.com, www.sleeplikethedead.com, www.ArizonaMattressCompany.com, ErgoComfort Mattress Company. In fact, the site administrator for the Mattress Underground commented: "In all my conversations with retailers and manufacturers ... I have only ever encountered one report that was clearly a latex allergy reaction (with a Dunlop latex mattress). It's rather remarkable to me that in all the online and anecdotal information available, there are almost no reports of latex allergies regarding mattresses."
So, sleep easily knowing that sleeping on your new latex mattress should rarely cause allergic reactions and can actually prevent many other types of allergens such as molds, mildews, and dust mites (See our PDF for tests showing dust mite retention rates in Latex vs. other popular mattress products).
Enjoy Your New Mattress,
Bradley's Sleep Etc. Management
For more information on latex mattresses, or any other type of mattress, feel free to contact one of our sales specialists at 801-484-1007, or email to Orders@saltlakemattress.com

FDA reference taken from http://www.latexmattresscompany.com/latex-mattress-allergy-faqs-1
Bradley's is in no way affiliated with this site. Accessed March 3, 2011.

CPSC petition information taken from the government website at http://www.cpsc.gov/PageFiles/90926/rubber.pdf
CPSC Denial on the petition listed above from the government website at http://www.cpsc.gov/PageFiles/83129/rubberla.pdf
American Allergy Latex Association Site: http://latexallergyresources.org/allergy-fact-sheet
Research Documents Published on NCBI:

www.ncbi.nlm.nih.gov/pubmed/?term=Develo...ysis+of+risk+factors, www.ncbi.nlm.nih.gov/pubmed/9226061, www.ncbi.nlm.nih.gov/pubmed/10436396, www.ncbi.nlm.nih.gov/pubmed/?term=Identi...ral+latex+mattresses, www.ncbi.nlm.nih.gov/pubmed/16468057
The following information is not intended as a substitute for medical advice. Consult your health professional if you believe you may have a latex allergy.