Bountiful Rest Talalay I - 5" Latex Set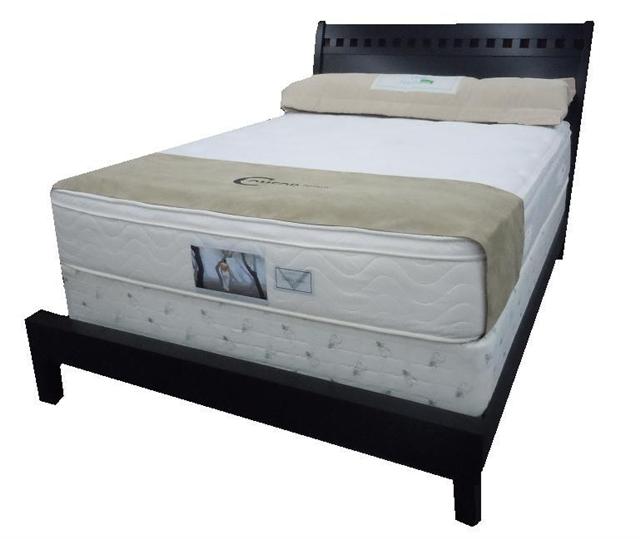 The Bountiful Rest Talalay I Latex Set offers incredible 100% conformity comfort and the nation's best warranty - 20 non-prorated years for any 3/4" body impression (most companies require 1 1/2" or more before a bed is warrantied)! The Talalay I mattress offers a plush comfort system which is the most supportive mattresses on our show room. The Talalay I's unique increasing ILD density latex core increases support in the back and neck area, providing better spinal alignment than traditional systems.

In addition, natural Talalay Latex is the most breathable foam on the market. With 3" of 100% natural Talalay latex, 2" of Activus Synthetic Latex, and a motion reducing support bottom layer this bed designed for superior conformity. Latex also keeps you cooler during the warmer summer nights for maximum luxury comfort. All in all, this mattress provides top-of-the-line features at a great price. This is one of Bradley's Staff's recommended mattresses for a master suite bedroom set.
Click here for info on the Talalay Latex Process! http://en.wikipedia.org/wiki/Talalay_Process

Features
:
3" of Natural Talalay Latex
2" of Activus Super High Density Synthetic Latex
100% Conforming
Locally Manufactured
Spring-Free System

Edge-to-Edge Support
StabL-Base Dual Beam Frame
Fire Blocker System
Advanced Comfort Quilt
Euro top
Layered ILD Density Ratings

20 Year Non-Prorated Manufacture Warranty

Warranty covers any body impression over 3/4"!!
Dimensions:

Twin: W39 x L75"

Twin e

xtra long: W39" x L80"
Full: W54" x L75"
Queen: W60" x L80"
King: W76" x L80"
California King: W72" x L84"
Mattress H

eight: 14" (Mattress only)